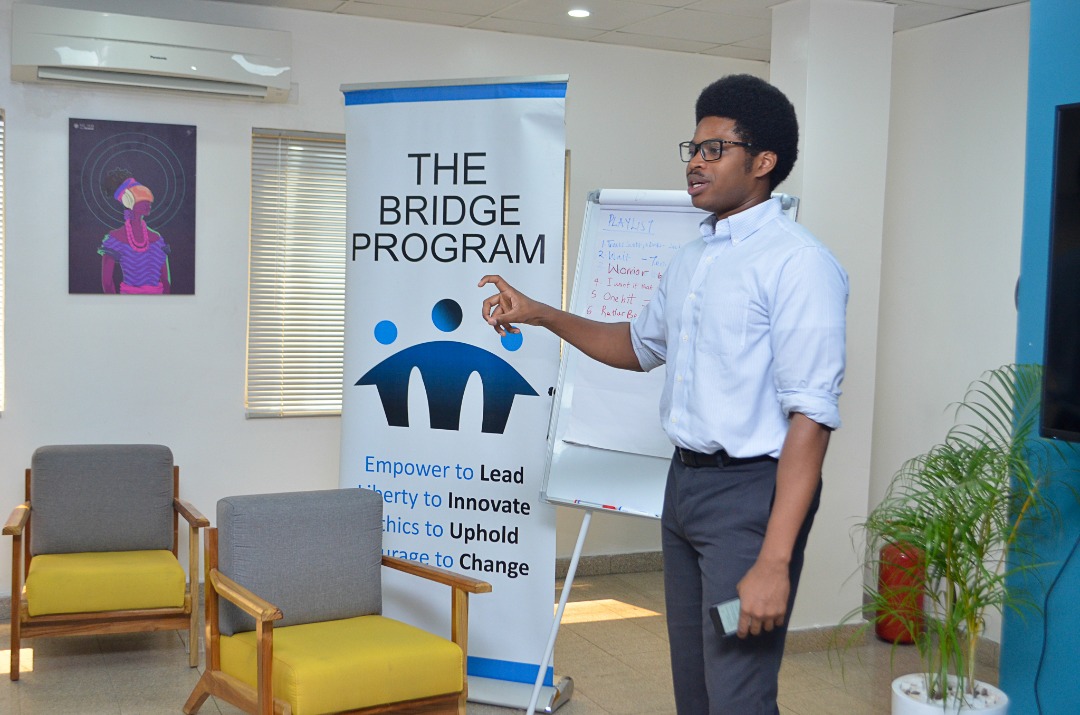 Welcome to The Bridge Program
Developing high-impact entrepreneurial leaders to transform Nigeria's economy.
The Bridge Program is a highly selective fellowship that identifies and develops change-makers to build Nigeria's leadership capacity across sectors. The fellowship begins with a four-week intensive boot-camp followed by a lifetime of training, mentorship, access to resources and opportunities to forge a successful leadership journey. Each year, we welcome 50 high potential young leaders who are in their first or second years of university to join the network. The Bridge fellows become part of a large network of future leaders and nation builders that will take bold steps to transform Nigeria's economy.
Foundation
Fellows are immersed into a transformational learning experience designed to equip them with the mindset, skills and aptitude to develop successful careers in the public, private and social sectors.
Experience
Fellows are afforded spaces to practice entrepreneurial leadership concepts through internships, indiviudual projects, group activities and simulations. Each experience offers space for practice and personalized feedback.
Support
Through the lifelong experience, fellows are empowered to launch new ventures, develop high quality research and lead critical sectors of the Nigerian economy, with the support of a global peer network and professional mentors.
Explore Our Curriculum
Entrepreneurial Leadership
Entrepreneurial Leadership
The leadership module is designed to help fellows display a rounded ability to understand and practice sustainable and solution-oriented leadership. This course will equip fellows with skills for leading self, leading/collaborating with others, leading projects and for leading change in systems.
Innovation and Entrepreneurship
Innovation and Entrepreneurship
Through Innovation and Entrepreneurship, fellows learn the skills to be innovative problem solvers and solution creators either within or outside an organization, as well as how to ensure these solutions are profitable and aligned with the needs of users. This course will equip fellows with human-centred design skills for starting a venture and launching it to a market.
Data, Research and History
Data, Research and History
In this course, fellows will learn the importance of data and acquire skills to collect, analyze and use data to inform decisions. Fellows will equally gain the understanding and ability to apply history and use historical lessons to shape future decisions.
Career Readiness and Competence
Career Readiness and Competence
Fellows will gain practical understanding of the world of work and acquire skills to access and thrive in the emerging marketplace. This course will equip fellows with skills for career planning, job search/application, interviewing, managing workplace dynamics and managing their career journeys.
Effective Communication
This module builds an understanding of professional communication and enables fellows to gain the skills required to communicate effectively in writing and speech. This course will equip fellows with skills for professional writing, pitching and delivering presentations to diverse audiences.
Digital Productivity Skills
Digital Productivity Skills
This course will equip fellows with skills for using workplace production and collaboration tools such as the MS Office Suite and other project tools.
Each year, applications are open for four weeks in the month of October. Shortlisted candidates will be invited for an interview in November and final selections take place in December. Successful applicants will be notified of their status before December 30th.