Editor: Daniel Alumona
Program Manager, Global Peer Collaboration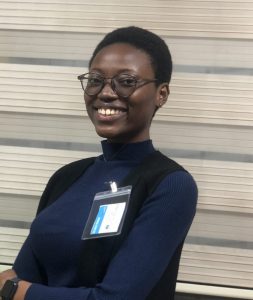 Student & Entrepreneur.
Mary Oni
TBP Entry Year: 2021
"..there are 1001 broken shards of events in our lives but there is one that seems to leave an indelible mark with unforgettable moments etched in our memory. This story is a deep dive into my world of reflections over the last 14 days at "The Bridge Program"
Background
Mary is a sophomore Pharmacy student at the University of Ibadan. She's keen on personal development and passionate about leveraging quality leadership to develop people and communities. She's highly motivated to innovate creative solutions to problems, which would positively impact communities in Nigeria and the rest of the world at large. Currently, she runs a business, Toyormae, where she serves as the Creative Director, as she rounds up her degree in the university.
Preamble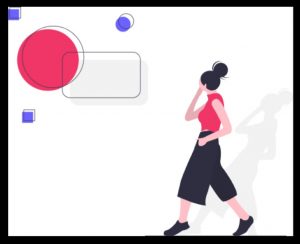 The quest to becoming more in the world of opportunities never ends. Or what if it does? Just maybe opportunities aren't so operant for all.
Ever felt an intense mind transition at any point in your life? Of course, there are 1001 broken shards of events in our lives but there is that one that seems to leave an indelible mark with unforgettable moments etched in our memory, "unforgettable" not because it was a La Vida Loca experience, rather, It is more of it having a profound effect on the mind, wherein, lasting changes are made. This story is a deep dive into my world of reflections over the last 14 days at "The Bridge Program"
According to Merriam webster; Opportunity is a good chance for advancement or progress.
Opportunities are made available to everyone (Rich or Poor) but it is those whose minds are hungry to become more and make a change either for themselves, their locale, and their world at large that can identify and leverage on opportunities when it shows up.
The Bridge Program is Numero Uno for me, in the world of opportunities
Backend story
During the lockdown, there was a surge in my desire for personal development and I channeled my energy unapologetically to activities that would drive that result. Right about TBP, My friend whom we share similar values, is a TBP fellow, 2019. This informed my decision about the program and I promised to apply when next the application is out.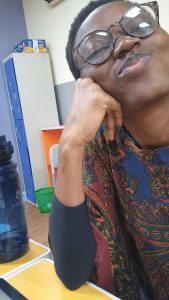 Towards the end of 2020, my friend updated me about the application, and I headed to fill the form after researching about it. While filling the form, I realized it's a paid program but I went on to apply anyway, I was hungry for growth, I was in that phase where developing my skills for my future aspirations is my goal. Luckily, there was an opportunity to apply for a scholarship for the program, I put in so much in applying for the funding aid as the program is worth $1000 and my financial capacity doesn't even come close, lol, but I was hopeful that irrespective of the funding outcome, I would make it to the latter.
I just knew that was my opportunity to become more, so I gave it my all. Thankfully, I was selected for the next stage, It was indeed a rigorous selection process as I went through (4) interviews at different times.
Unlike other applications, The selection process in itself developed me, I began to think differently after each interview. I knew this was different!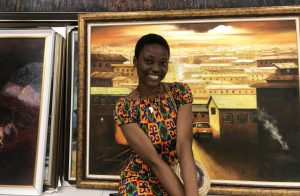 Fast forward, I was selected alongside 49 students from 85 universities across the country as a "The bridge" fellow (claps), It was not an easy 'sontin'. The two weeks intensive Bootcamp was in Lagos, so I had to travel down from the University of Ibadan after taking official permission from my Faculty as school is in session.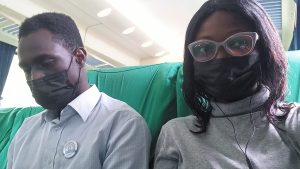 In the picture with me, is a fellow and a student of the University of Ibadan,  That was my first time meeting him though. We took the Ibadan-Lagos train and discussed our expectations from the camp. I had a cue from the conversations we had that "it was going to be the most intriguing 14 days with the brightest of minds". I just couldn't wait.
Day zero!
We arrived at the boot camp first, Fully representing the premier University, lol. Slowly and eventually, fellows started arriving and we all were expectant of what was next. There was no time to rest as such, we were fully into the business from Day 0! The first activity we did was learning each fellow's name in a very fun way. I mean, how best could you have bonded with 49 other fellows? TBP makes it easy.
The TBP effect!
Right about time! We were handed our camp files which contained notes, a pen, a copy of the camp schedule, and a candy. TBP makes learning fun!
Everything about TBP makes me want to screech (but out of excitement though, LOL); added to the fact that I get to be in close contact with the 49 brightest minds who scaled through the rigorous selection process, and much more, became beneficiaries of a $1000 scholarship.
Moreover, Fellows are highly welcoming and humble irrespective of past achievements, This contributed to making our "Pecha Kucha" (My story) sessions always worth it.
This is where Fellows share their stories with no fear of being judged, This session not only lets you tell your story, it enhances "storytelling" and "public speaking" skills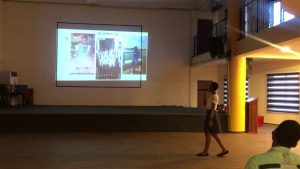 The learning approach is so engaging and different from the conventional mode of learning! Every activity (Games, El core, Workshop, Seminal readings and videos, Trips) had an objective, The model inculcates the habit to; Try, Fail, Reflect, Get  Feedback and Learn. Failure is never considered a defeat in TBP but an avenue to learn and grow. In the words of my esteemed camp director; Try something new. If you succeed you will lead, if you fail you will guide.
TBP is a game-changer, The effect is long-lasting, The conversations with fellow housemates were >>. Discussions with the facilitators confer a stretch on your mind and it gives newer possible perspectives to otherwise impossible situations – there was always a solution – there is always a way out 
The first experiential game (Lilly Pad experiential) has to be my favorite, It is how fun games can be so practical and full of lessons; You would be shocked to realize how much you can know about experiential topics like "leadership" through games. I say!  TBP effect!
In between the vigorous learning was the pampering, I mean, We were exposed to western life in those two weeks. Starred list of food (3 square meals), Free wifi, 24 hours light, and well-conditioned avenues for optimum learning.
Key Takeaways
Lessons on leadership, Identity and Mental models, Proactivity and responsibility, Need mapping, and also the BUILD model.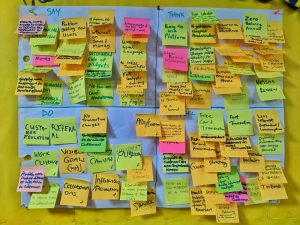 The BUILD model helped us to critically understand the process in innovation, There is a learning curve in every process. Embracing and growing through the curves makes the difference.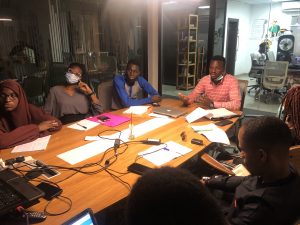 We were assigned to different teams(house) from the get-go. Towards the end of the camp,  We had the opportunity to work with already established Start-Ups; SmartTeller, Evolve credit, TNN Africa, Cars45, Favorite Doctor by identifying their needs and brainstorming ideas that aim to solve real problems and meet those needs. How much we achieved in few days confirmed that Innovations are products of mindset and determination.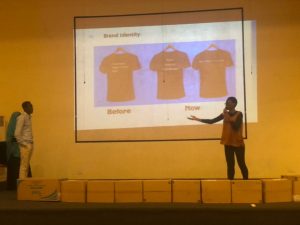 The Ideas Festival is the most exhilarating; Fellows are allotted a TEDx look-alike opportunity to present an idea that aims to solve the problem identified.
What's next?
I have been immersed in and exposed to core leadership and entrepreneurial thinking skills, career readiness, and problem-solving skills. And in all honesty, it has been an engaging and valuable experience for me.
Do you see why TBP is Numero Uno for me? It has given me and 49 other hungry youths, the platform to grow and progress. I am confident in the now, forthwith; I'd be applying all that I have been exposed to in my engagements, stepping down the knowledge and being a change maker in whatever space I find myself.
Indeed! not all heroes wear capes
Interesting to know that the founders of this amazing program, that have churned out great minds and transformative leaders are "Women". Lara and Joke give me goosebumps and motivates me to chase my crazy dreams. Here are women who are breaking glass ceilings and investing greatly in the youths (believing that the future lies in the now).
I also want to believe that the facilitators were thoroughly selected. It was indeed a privilege to meet and interact with these highly learned individuals,  especially my facilitator, Mr. Xavier, and My camp director, Mr. John! The man held it all together.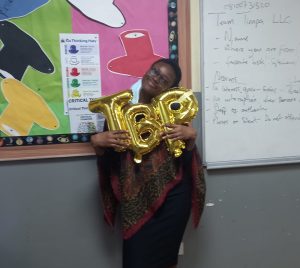 A very big thank you to the parent organization, for taking great chances on these transformative youths, The Afara Initiative -@theafarainitiative
To my starlights! TBP 21! You all make being a fellow a badge of honor. The last 14 days with you all will forever be etched in my memory. The best!
It's time to take on the world! To birth and be the change.
To you who made it to this point — Do know that you are exceptional and I hope that you are inspired to become more.  
Cheers.