Editor: Daniel Alumona
Program Manager, Global Peer Collaboration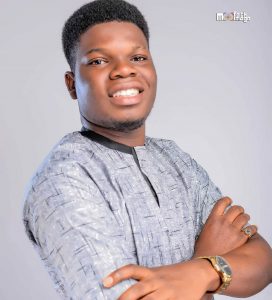 Student, Social Innovator & Founder
Tobiloba Olanipekun
TBP Entry Year: 2021
"If I can learn like this within 14 days, and work with like-minds to proffer need-based solutions to startups and ventures, what's stopping the National Universities Commission (NUC) from taking a cue and borrowing a leaf from The Bridge Program to improve our educational/school curriculum in Nigeria? "
Background
Tobiloba is a communication/media enthusiast, brand strategist, social innovator, and strategic volunteer. He's an undergraduate student, studying Building Technology at the Federal University of Technology Akure. Tobiloba is committed to global impact and initiating social change that will reach millions of people, especially those in underserved communities. Currently, he leads an NGO, and added to his university studies, explores various types of entrepreneurial ventures.
Preamble
Despite submitting entries for quite a number of applications and going through their programs/systems, I stand bold to say that The Bridge Program by The Afara Initiative is way ahead of all. It is the most intentional human capital development investment for me!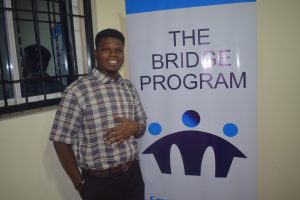 Tobi at The Bridge Program
In just two (2) weeks of the intensive Bootcamp, The Bridge Program, a $1000 worth fellowship program (made free for our cohort), exposed 50 undergraduates to a dynamic system of learning, designed with a mindset of uncovering problems and solving them.
These 50 young minds, including myself, went through a topnotch rigorous process before we were finally selected out of many applicants from over 85 Nigeria universities. Did I hear you say that was tough? Yeah, I agree with you.
Two Weeks of Transformation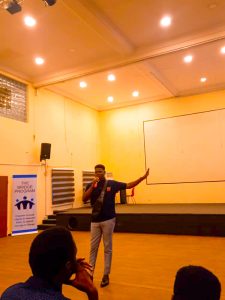 Tobi sharing his Pecha Kucha (My Story) during an Assembly Session
For us, the carefully selected ones, we truly had no clear picture of what to expect in camp for the next 14 days. The camp schedules originally look amazing but its implementation throughout is just topnotch and exceptional. We were divided into four teams – Obudu, Tinapa, Yankari, and Niger.
We wake up every day by 6 AM to prepare for the day starting with a 7 AM breakfast and followed by an 8 AM assembly session where all fellows participate in Pecha Kucha (My Story). Looking back, the amazing stories of my new friends connected us well. The EL Core sessions redefined the way we are meant to learn. It made us own the process of learning with a proper teaching guide from our super amazing facilitators – John, Richard, Xavier, Tamilore, Daniel, and Samuel.
I discovered many parts of me through the Thinking Hats and the BUILD Process. Every day, we write a Reflection Statement, and at the end of the Bootcamp, we wrote and submitted a Leadership Map with a minimum of 2000 words. As smart and intelligent as we are, we were taken out of our shells and made to do things we never thought we could do, all in just 14 days!
The Bootcamp was a safe space where failing is a golden opportunity to try again and do better. We had fun and educational trips to Lekki Conservation Centre, Nike Art Gallery, and Ikeja City Mall.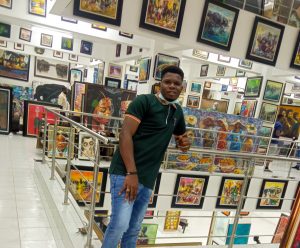 Our Visit to Nike Art Gallery, Lekki, Lagos State
At Nike Art Gallery in Lekki, Lagos, we got to learn so much about art and how trash is turned into treasure. To me, the greatest artistic woman in Africa and the founder of the art gallery, Chief Dr. (Mrs) Nike Davies-Okundaye, attended and lectured us about ART. It was so touching and refreshing to hear her share her inspiring story with us. I'll forever treasure the picture I took with her! I have plans of framing the picture!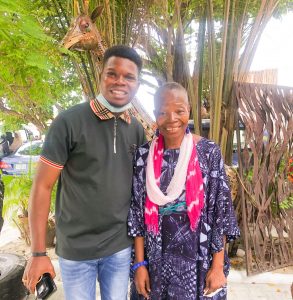 Tobiloba Olanipekun pictured here with Chief Dr. (Mrs) Nike Davies-Okundaye at Nike Art Gallery
The highlight of the camp is the BUILD process – Believe. Understand. Invent. Listen. Deliver.
With BUILD, each team was assigned to a startup/venture to identify a 'need' in the company and proffer distinctive solutions. For our BUILD Lab Site, we visited companies like Evolve Credit, TNN Africa, SmartTeller, Cars45, and Favourite Doctor to understand the companies' business value propositions and identify their needs. We brainstormed for days to come up with a need-based prototype solution and at our Ideas Festival, we beautifully pitched our ideas to these startups and well-wishers. We rounded it up with a Gala Night. Did I tell you that we got an Aso Ebi signal during our networking session? 😂 WTMG 😎
For my team, Obudu, we were assigned to Evolve Credit. It was so nice to visit the company and interact with their young and exceptional team. Joseph Andrews of Evolve Credit was our major point contact and he was wonderful throughout. It is important to note that the founders of Evolve Credit, Daniel Osineye and Akan Nelson are products of The Bridge Program! They both met at TBP and birthed Evolve Credit.
My Transition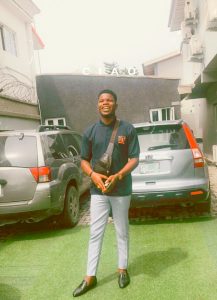 Visit to Build Site Lab – Evolve Credit office in Lagos
"To be honest, I've literally transitioned from just a thinker to a brainstormer with a lot of 'whys' in a bid to find need-based solutions in our society. I'm so proud of myself, my other fellows, the amazing facilitators, and the resourceful network of The Bridge Program." 
Do you know we had what is called 'Sugar Cubes'?
Every fellow and facilitator had an envelope pasted on a large notice board where everyone expresses their mind to anyone or everyone. I still can't get over the sweet notes I received in my Sugar Cube.
If I can learn like this within 14 days and work with like-minds to proffer need-based solutions to startups and ventures, what's stopping the National Universities Commission (NUC) from taking a cue, and borrowing a leaf from The Bridge Program to improve our educational/school curriculum in Nigeria? Like my amiable Camp Director, John Igwe, will say, "I'm worried." 
Talking about John Igwe, I miss him already. I've never seen someone so intentional about impacting lives. He's a great leader, a fantastic teacher, and the best Camp Director ever. If for anything, we can't forget his signature quote that says "…Try something new. If you succeed you'll lead, if you fail you'll guide…" Trust me, you will always be proud of us. I love and appreciate you, Mr. John!
For this lifetime investment in me and my new friends, I want to say a big thank you to Lara Rabiu and Adejoke Odocha for using The Afara Initiative to bless us and this generation. We won't disappoint you.
To my brother, Femi Olanipekun, who is proud of me and ever supportive, I say thank you. To a brother like no other, Olajide, who is intentional about my growth and who showed up at our Ideas Festival to cheer me on, I say thank you.
To you who read this piece to this point, I hope you're inspired to be an exceptional problem-solver and to my lovely new friends and Entrepreneurial Leadership Fellows of The Bridge Program 2021, I'm saying WATIMAGBO ❤️