Program Manager, Global Peer Collaboration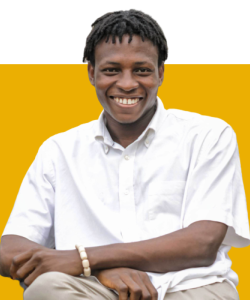 Digital Artist & Filmmaker
Tega Oghenechovwe
TBP Entry Year: 2019
"When I got into the Afara network and TBP in 2019, I met lots of people; creatives and non-creatives alike. Seeing each one of them share and work towards the life aspirations they carved out for themselves and not what society had handed them, I realized I wasn't alone anymore. Oftentimes, creatives like myself have to go long and hard at what we do, outside of the norm, to make a name for ourselves, and to believe that our imaginations of success are valid"
Tega is a highly talented Nigerian Digital Artist and Aspiring Filmmaker. He is very skilled in modern art like Graffiti, still life drawings, and motion designs. With the evolution of his digital art style into motion art (video) and animations, he incorporates lots of screenwriting and storytelling, as he gradually expands his experience in filmmaking. Tega has succeeded in turning his story around, from dropping art back in 2015 due to career uncertainties, to getting global nominations for his artwork in 2021. He is currently set to launch his first NFT digital artwork on the blockchain network.

Background
Tega is a final year student at the University of Lagos Nigeria, with a major in Mechanical Engineering. He is an indigene of Delta State Nigeria. Although he was said to have been an artistic prodigy as a kid; drawing acutely from imagination, entering, and winning art competitions; he abandoned the skill completely while growing up. 
In Nigerian society, and in many parts of the world at large, the bias for success in career/life in general, always unevenly tilts toward academics as the sole determinant, often neglecting natural-born creative talent. In most average families, people studying professional courses in Law, Engineering, Medicine or Finance, are often revered and referred to as having "brighter futures" than others. This in itself, is a bias among academic fields of study, not to even mention the debate between academic vs non-academic fields. 
This was one of the influences and hindrances to manifesting his true talent, numbing his artistic fantasies, as he followed societal expectations in the pursuit of a "brighter future" choosing to study Mechanical Engineering, seeing that an artistic path was probably a lonely one. Read how he rediscovered his creativity and is transforming his artistic career under the watch of The Afara Initiative's The Bridge Program.
Before The Bridge Program: Rekindling His Artistic Interests
Between 2015 and 2017, the journey into, and through the second year of Mechanical Engineering studies at the University of Lagos, revealed that the field of study wasn't what he thought it would be.
"After I got in, I realized mechanical engineering was not really what I envisioned it to be. Not only were my first set of results not so good, but I found myself losing interest, and at that time, I had started thinking a lot about my future"
On rekindling his art;
"Originally, the reason I went for a STEM course was that I was good at science in secondary school and because it was loosely related in imagination to the expectations of art. But after much thought was put into the situation, I decided to go back to my foundational talent which was drawing"
Going all out to be a professional artist, while still studying for an engineering degree was no walk in the park, and since his circle of influence was mostly made up of aspiring engineers, his lonely artistic path became all the more pronounced.
Discovering and personalizing graffiti painting as one of his artistic styles, setting out and solo training on CorelDRAW, Adobe Illustrator, and trying to carve a meaningful career out of it all took a lot of hard work; hardly did anyone completely understand or fully relate to what it felt like.
"Oftentimes, creatives like myself have to go long and hard at what we do, outside of the norm, to make a name for ourselves, and to believe that our imaginations of success are valid"
The Bridge Program Experience 
"When I got into the Afara network and TBP in 2019, I met lots of people; creatives and non-creatives alike. Seeing each one of them share and work towards the life aspirations they carved out for themselves and not what society had handed them, I realized I wasn't alone anymore"
About his initial expectations, he said;
"I remember the first day I arrived at TBP, that was in the middle of a session in school. I thought to myself that the 2 weeks Boot-Camp would be a vacation for me, to meet and vibe with new people, and have fun, before going back to school's stressful life"
He also added;
"But as early as the first few days, after we had gone through some EL Core sessions, added to the community of societal rebels in the network, I could already think of up to 10 ways what I was learning could help accelerate my career faster than I had ever imagined was possible"
In August 2019, Tega was one of the 30 selected fellows to join The Bridge Program. Since we blend a great diversity of students from different backgrounds with a similar drive for career/personal success, just like Tega, into the same cohort annually, it was no surprise that he was met with a community of like-minded folks, hungry to make a change.
He described to us one of his more personal experiences which shaped the way he approached self-branding
"The day Mrs. Edem Ossai, one of our facilitators took a session on professional communication, I had asked a personal question as to how I would describe the impact of my graffiti art to better brand myself in a professional setting
"Then, I had a couple of graffiti artworks in UNILAG and some recreational centers; she gave very practicable tips on how to quantify metrics for tourist/people attraction, with respect to the beauty of the art I designed…"
"..this may not sound like much, but believe me, before then, all I knew and focused on was what, where, and how to create art, I didn't know how to best position the business impact, and always waited for my art to speak for itself.."
These days, success demands a great mix of technical and business acumen, the latter was and is currently provided to him by The Bridge Program. 
His Vision For His Career In Digital Art & Filmmaking

Like all creatives, Tega has big visions for his career and has taken actionable steps to bring them to life. He intends to revamp the dynamics of Nigerian art, making it the global front for both film production and visual art.
As a more personal goal, he is venturing into NFTs and digital art exchanges. He has a big dream of winning an oscar from one of his films, much later in life.
Also, given his struggle in the past, he has a keen interest in reshaping the education system in Nigeria, to make it inclusive of the in-depth curriculum of minor fields in the creative line. He believes the youth don't need to go through some of his struggles to gain clarity and take that leap of faith in their careers.
Some of His Works & Achievements Since TBP

Since The Bridge Program in 2019, he has leveraged the lifetime support of The Afara Initiative network to secure lots of opportunities. He got his first job that same year post-The Bridge Program experience and went on to co-op on a big 80-min documentary as a colorist, assistant editor, camera assistant, animator, gaffer, researcher, and archiver, titled "Forces Beyond Our Control" in 2020. 
He has also expanded his experiences and his creativity hasn't gone unnoticed. A representative from The Bridge (Lifestyle Hub) reached out and saw his potential to make video art for their project (Mid 2020), and another from A Design Award reached out and suggested he should nominate one of his projects for the Award in March 2021.
He makes designs for apparel. Check them out on his Instagram page below.
His personal page is filled with digital artworks, you can check them out here:
Tega's motion video titled "My Space"