by Michael Akpan Jr.
We're pleased to inform you that you have been selected by the Admissions Committee as one of the 30 bright minds to participate in The Bridge Entrepreneurial Leadership Fellowship Program for 2019.
Prior to the acceptance email, with excerpt above, there was the application process which started out with an online assessment that was centred around the potential to do more as well as an hard core emotional intelligence test, and various application essays. This set of criteria happens to be the most difficult to fake given that there are no right or wrong answers. Upon the end of the deadline, we were slated for interviews which ranged from nervous calls, to emails and message exchange for more about individual potentials. Throughout this process, we were advised to be calm, but I was on the edge. I was far from sure about getting in, but after scaling through all of this, I couldn't wait for the bootcamp to commence.
With a vision to ensure young Nigerians are equipped with the skills, resources and network required to stirrup the change in the Nation – and continent -, The Bridge Program developed a distinctive learning model that highlights critical thinking, visionary living, intrinsic leadership virtues and great value system. The Leadership Fellowship Program draws its curriculum from proven experiences of entrepreneurs and business titans, puts it into the context of a rising Nigeria (taking into consideration the challenges and opportunities unique to the environment), and sets fellows up with a network that conspires to help get to the fellow's personal legend whilst also allowing the lessons sink with the "Learn it today, apply it tomorrow" technique.
Collaboration over competition.
August 18, 2019, I participated in the ice breaker that bonded myself and 29 other exceptional young Nigerians who had come from all over the country with not just great potentials but high productivity rate. That day marked the beginning of the 2 weeks in-house bootcamp which is part of the 4 months training process. I'd heard and watched about how unconventional learning models could change the educational system, but being a student of a university with the conventionally lackadaisical learning approach, I never had an opportunity to experience it until I got into The Bridge Program. For 2 weeks, lessons were dished out through facilitated interactions guided by the curriculum, lesson experiential and reflections; and for me, it was a formative experience. Mr. Igwe, the lead facilitator during onboarding had us set camp norms, and reiterated the need to be ready to learn, unlearn and relearn in the course of the bootcamp. Each day started with "My Story sessions" which helped piece together the intriguing stories behind everyone's abilities as well as further bond us, and ended with "Reflections" to help make sense of the learning and draw more lessons from what has been learnt. Early into the first week, we had been placed in Advisory families to enable us discuss our growth and lessons amongst each other as well as prepare us for the second week's BUILD lessons.
The first week saw us walk through Entrepreneurial Leadership, Communication for Impact, and Personal Career and Branding. This week featured the evaluation of mental models, emphasise on collaboration over competition, Elevator Pitch practice sessions, Seminal readings on Emotional Intelligence and David Goleman as well as reads on Proactivity. The second week was focused on Needs Identification, Design Thinking, Impact and BUILD. it was at this point I realised I'd been tapped thrice; hence, I'm privileged to see what others cannot see, identify a problem, and make a choice to create a solution that would bring value. Those 2 weeks exist as the Urim and Thummim to guide me through my journey of finding my personal legend as I go back often to get fresh lessons.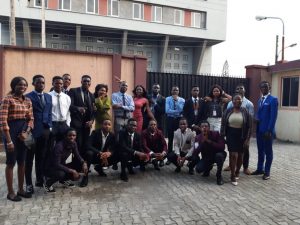 Before the end of the bootcamp, just like Miss Lara Rabiu and Mrs. Joke Odocha – the brains behind the identification of the deficit in the Leadership capacity of young Nigerians and decided to put up The Bridge Program to fill this gap, we had as a team (advisory family) identified a need in the society and began ideation to BUILD a solution. The succeeding 3 months saw us hone the acquired skills, harness the new network and through team work build a prototype for our solution, run a pilot phase and learn as much as we discovered loop holes in the solution. During this 3 months away from bootcamp and whilst working in a team, the acquired lessons had set me on a personal journey of intentionality, accountability and constant improvement. Within that timeframe, I had taken on internships, volunteered for numerous causes that I found immersing, learnt from the experiences I had while at it and developed new interests.
Two weeks ago, we convened again to meet more industry professionals, pitch our personal and team ideas to potential investors, get feedback about them, and also get inducted as Fellows of The Bridge Program having shown reasonable commitment to change. The induction in itself was a great moment as we now officially belong to a network of ethical creatives who are passionate about growth and have experiences to show for it. This has been the best part of my 2019 and I'm positive about it shaping my journey through the next decade.
Congratulations to other fellows, and cheers to being part of the success culture!