Program Manager, Global Peer Collaboration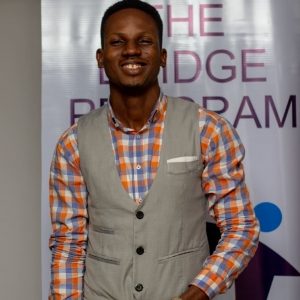 Medical Researcher & Entrepreneur
Victor Ojo Oluwaseun
TBP Entry Year: 2019
"Being in a network filled with people doing great things, I had no choice but to push myself as well. As I thought about fellows attempting and achieving feats, I always motivated myself to step up my game, so that as I look up to them to collaborate in future projects, they can also find me competitive enough to do the same"
Victor is a Nigerian medical researcher and founder of multiple-award-winning Healthcare startup, Favorite Doctor, a startup that provides quality, affordable, and swift medical services on instant demand, from the comfort of one's home. He has led the research and development of self-testing HIV kits, "Iungo HIV self-test", and has gained extensive research experience with the Nigerian Institute of Medical Research. His goal is to make medical services easily accessible to both local and urban communities in Nigeria.
Background
Victor is a 2019 graduate of the Federal University of Technology Akure, with a major in Applied Geophysics. Before then, he attended Federal Government College in Warri, Delta state Nigeria. He is a Nigerian, and an indigene of Ekiti State. 
He started his career as a technology enthusiast, and like most here in Nigeria, was interested in Android development, before pivoting into Medtech and research.
In his profile, you'll read how he found his call into Medical research and created his multi-award-winning healthcare startup, Favorite Doctor, regardless of a rather non-conventional career path from his undergraduate studies in Applied Geophysics, and how he navigated through the challenges he was faced with without a(n) (initial) professional medical degree, thanks to his training in, and the support of The Bridge Program since he became a part of our network in 2019. 
Before The Bridge Program: Discovering Interest In Medical Research
As an android developer enthusiast in 2017, the FinTech (startup) buzz was the trend and goal of most developers, as was his too, but his call to medical research was so subtle, it was hard to ignore.
Before graduating from The Federal University of Akure, he first discovered his interest in medical-related practices after some personal experiences (mishaps) he encountered, which could have been circumvented easily if simpler systems were in place. In his own words;
"Mummy Bunmi was a lady who showered me love like a mother. Hearing the news of her passing, and finding out that a simple phone call could have saved her life, got me thinking about the possibilities of mitigating healthcare challenges by just doing the barest minimum"
He also mentioned a couple of stories where students in his school, accident victims, etc., who could have been quickly saved by giving first aid and/or calling a physician, lost their lives, even in the presence of witnesses.
"When accidents happen, people are always scared about what to do in the moment. Bystanders scream. Some pray. But the larger majority are not sure how best to save a victim's life. Others, when they attempt a procedure, get it completely wrong"
He gave an instance where pulling out a bullet from a freshly shot individual could be rather counterproductive on a crime scene, albeit with the right intentions. With more experiences he witnessed visiting his relative's hospital, seeing cases of delay leading of unsalvageable situations, hearing, reading, and watching stories, he says;
"After analyzing many cases, seeing that a simple phone call, and to the right people, can save many lives, I thought to myself, it's either I venture into this, or I'll regret not even trying"
He finally decided that although he did not have a medical degree, he could set up a system for connecting people to medical professionals, pending the time he came of experience, as he started on his medical research journey.
The Bridge Program Experience 
"My team had been having big-time issues with growth and scalability, and in many neglected aspects like communications…"
"Meeting John Igwe, the Director of TBP in a 2019 event in my school, was a turning point in my life. After hearing him speak about Entrepreneurial leadership and collaboration, design thinking, venture building, and more, immediately he left, I knew I needed more"
That thirst led him to apply and get selected into The Bridge Program that same year.
As he described to us in his interview, setting up a venture came with a lot of challenges, both external and personal. For him, it was leadership, and that was where he got the most value in the TBP network, starting from the experiential learning models used during the boot camp, and after. Thanks to so many practices in TBP, directing his emotional intelligence helped him with the eventual setup of his startup, Favorite Doctor, down the line in 2019. By later that year, he had won an award for his HIV self-test product with his team. 
"On days when Favorite-Doctor had major business challenges, I called on Akan, and he spared what he was doing and got on several calls with us, helping us navigate through the problems. 
"Personally, how he responded to our call, and the methods he applied, made me appreciate the quality of mentorship I receive from TBP"
Akan Nelson is one of our top professionals/mentors within the network, and the founder of Nigeria's number one credit and loan comparing platform, Evolve Credit. 
More about Victor Ojo's experiences within the network in the last 2 years, including the learning practices he went through, the mentoring, and more, is detailed in this QnA session we had with him and will unveil later.
His Vision For Medical Research & Favorite Doctor

With some of the great work he and his team have done at Favorite Doctor, setting up convenient healthcare services with easy accessibility via mobile phones; phone calls, and web app with 825 current users, developing and making self-test HIV kits, and more, Victor is on course to researching, developing, and simplifying medical materials which anyone anywhere can make use of, reducing the need and costs of hospital travels, especially in cases of emergencies and their related hazards.
On the side, his startup is educating and sensitizing citizens on best practices for both mental and physical healthcare, via social media.
Check out his startup progress at https://www.favdoctor.com/ 
His Achievements & Startup Awards Since TBP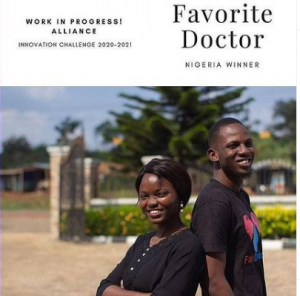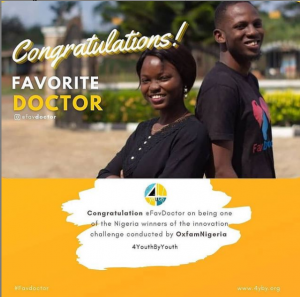 World AIDS Day 2020 (Dec 1st, 2020)